Nelson Laut likes all sports like the NBA, MLB, NFL, NHL. Heck Nelson Laut evens likes ultimate frisby. Wait why am I talking in third person? Anyhoo, this page is just a way for me to share my love for the world of sports.
Got a question? Drop me a line!
October 30, 2012
October 28, 2012
Yahoo!: Thunder trade James Harden to Houston Rockets in multiplayer deal
The beard is heading to Houston! Rather than bite the salary cap bullet for the next couple of years for a chance to go the NBA Finals multiple times, the Oklahoma City Thunder trade reigning Sixth Man of the Year James Harden, Cole Aldrich, Lazar Hayward and Daequan Cook to the Houston Rockets for Kevin Martin, Jeremy Lamb, and future draft picks. 
You gotta give Sam Presti and the Thunder front office credit for having the balls to trade a fan favorite and a cornerstone of the second unit. The Rockets are expected to offer James Harden the max contract that he has been seeking. Only time will tell if this trade works out for the Thunder.
September 17, 2012
July 26, 2012
From Espn: Orlando Magic Dwight Howard still wants to be traded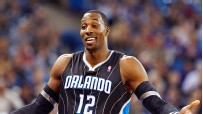 Man this news is just coming out of left field. Dwight Howard wants to be traded? Seriously? Because these past 18 months have just been nothing but pure bliss for the Orlando Magic and Dwight. Where did this all of this trade talk come from?
Oh give me a break. Come on Rob Hennigan just pull the trigger already. You're not going to get anything better than what you have been offered by the Rockets or Lakers. Unless you want to wait until Brook Lopez is eligible for trade but for the sake of your fans in Orlando just come out and say how you are going to deal with it because you're not winning anyone over in the Magic Kingdom
July 24, 2012
Chicago Bulls don't match Omer Asik offer from Houston Rockets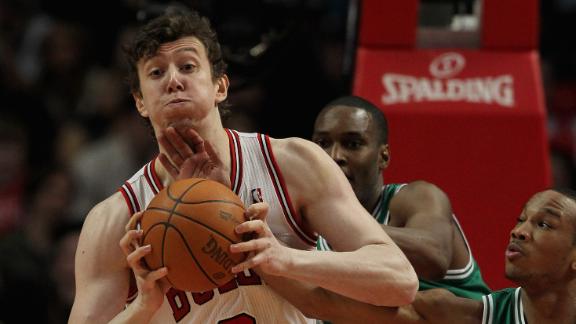 The bulls did the right thing by not agreeing to that poison pill contract for Omer Asik. Something tells me that these kind of contracts will be the norm for most of the new contracts in the next off-season.
Contracts like these seem like a double edged sword - for example, Asik's deal has the first couple of years with a reasonable price (around $5 million each) which helps potential teams stay under the cap but that final year of $15 million will absolutely kill the future cap and make that player virtually unmovable unless you buy them out (see Rashard Lewis).
Still the Chicago Bulls did a good thing by not keeping him and keeping their cap ok. Good luck Omer Asik! Good luck finding a point guard like Derrick Rose and two bigs like Carlos Boozer and Joakim Noah that'll get your back when stronger and faster bigs in the Western Conference are beating you down in the post.
July 24, 2012
Sources: Orlando Magic may wait on Dwight Howard trade deal
Bad idea. Why would you want a guy that clearly does not want to be in Orlando attending practices and playing in games where the fans will just boo him unmercifully. Dwight Howard, you're distracting the coach from developing the players on the team that actually give a damn about playing.
If I were Rob Hennigan I would just think long and hard about the best trades that the Los Angeles and Houston Rockets have given and just get Dwight Howard out of Orlando. The longer you wait, the longer a distraction it will be for the team. I wouldn't be surprised if management panics at the trade deadline and takes a deal that isn't as sweet as the ones he was offered in these past couple of weeks.
July 18, 2012
This is a parody of the song "Somebody That I Used to Know" by Gotye. I kind of prefer the parody more. It's just funny how the lyrics just ring true (well except for the Knicks having a shot at the NBA Title. They still have to go through the Bulls, Heat, Pacers, Celtics to even get to the Finals.)
July 18, 2012
Houston Rockets Jeremy Lin: "Honestly, I preferred New York"
I know that the media is blowing that comment out of proportion but the cold reality is that Jeremy Lin wanted his cake and eat it too. He wanted to play with the New York Knicks AND he wanted a crap load of money too but his plan backfired. He thought that the Knicks would match anything to keep him but this time they were responsible - they wanted to build a solid future and not give in to breaking the bank just to keep a player based on a small sample of data (30 some odd games of playing great doesn't warrant the kind of contract that Jeremy Lin is getting and that is FACT).
At the end of the day NBA players are getting paid to play a game that kids, young adults, and anyone else get to play everyday. I think this is great fuel for Jeremy Lin to get better and prove to everyone that he is worth every penny and more.
July 18, 2012
New York Knicks do the smart thing and let the Houston Rockets get Jeremy Lin
I'm not a New York Knicks fan but I don't blame them for not keeping Lin. That contract is too much for the Knicks to handle with Chandler, Anthony and Stoudemire already on the books (even though NY has been notorious for giving ridiculous deals) and after adding the pass happy point guards Jason Kidd and Raymond Felton, it gives everyone more shots that Lin could have taken away. You can't expect the Knicks to utilize shooters like Steve Novak and J.R. Smith if Jeremy Lin is taking 15 shots a night.
And in a perfect situation, Jeremy Lin should have known better that the Knicks wouldn't match a contract like that. Good luck counting all your money while the Rockets have a hard time getting into the playoffs in a stacked conference. Have fun passing ball to your only option Kevin Martin.
July 16, 2012
Carmelo Anthony says, "Don't blame me if the New York Knicks don't bring back Jeremy Lin"
After reading Yahoo!'s little snippet, I can only partly agree with Carmelo is saying. Yes the it's up to the Knicks to match Jeremy Lin's offer and that he is not management, but last season when Melo got back in the lineup he didn't really want to share the ball as much and it showed that he wasn't going to take any play-calling orders from Lin.
If Lin were to stay then he would be getting 15 touches per game and that would take away from Amar'e Stoudemire and Anthony which cause more "Melo-drama" later on in the season if Carmelo doesn't get his shots. So in way you can sort of blame him for the Knicks not matching the offer.