Nelson Laut likes all sports like the NBA, MLB, NFL, NHL. Heck Nelson Laut evens likes ultimate frisby. Wait why am I talking in third person? Anyhoo, this page is just a way for me to share my love for the world of sports.
Got a question? Drop me a line!
November 28, 2012
In Case You Missed It: the Knicks-Nets promo featuring Spike Lee
July 26, 2012
From Espn: Orlando Magic Dwight Howard still wants to be traded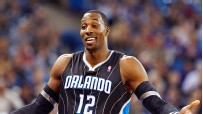 Man this news is just coming out of left field. Dwight Howard wants to be traded? Seriously? Because these past 18 months have just been nothing but pure bliss for the Orlando Magic and Dwight. Where did this all of this trade talk come from?
Oh give me a break. Come on Rob Hennigan just pull the trigger already. You're not going to get anything better than what you have been offered by the Rockets or Lakers. Unless you want to wait until Brook Lopez is eligible for trade but for the sake of your fans in Orlando just come out and say how you are going to deal with it because you're not winning anyone over in the Magic Kingdom
July 24, 2012
Sources: Orlando Magic may wait on Dwight Howard trade deal
Bad idea. Why would you want a guy that clearly does not want to be in Orlando attending practices and playing in games where the fans will just boo him unmercifully. Dwight Howard, you're distracting the coach from developing the players on the team that actually give a damn about playing.
If I were Rob Hennigan I would just think long and hard about the best trades that the Los Angeles and Houston Rockets have given and just get Dwight Howard out of Orlando. The longer you wait, the longer a distraction it will be for the team. I wouldn't be surprised if management panics at the trade deadline and takes a deal that isn't as sweet as the ones he was offered in these past couple of weeks.
July 20, 2012
Dwight Howard's agent says that he won't sign an extension. What? Dwight Howard changed his mind again? Really?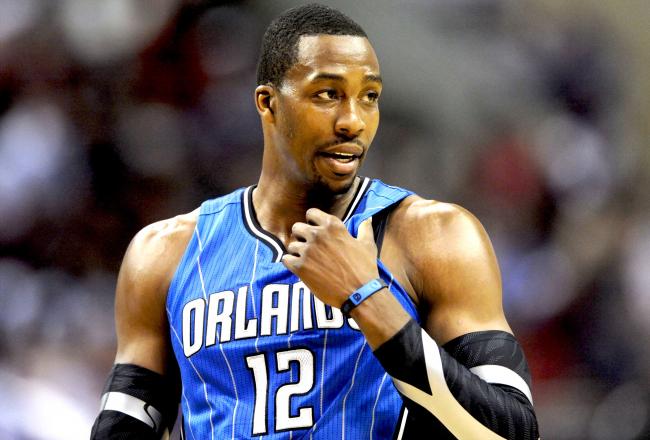 I think I should try to find a way to be Dwight Howard's agent. I think that Dan Gegan of LaGardere Unlimited just spins a wheel that has these options listed:
-Say Dwight wants to go to L.A. and sign an extension
-Say Dwight wants to go to L.A. and NOT sign an extension
-Say Dwight wants to only play for the Brooklyn NETS
-Say Dwight is open to playing for teams other than the Brooklyn NETS
-Tell Dwight he is doing the right thing

I think the NBA just needs to step in and exile Dwight Howard from the league for five years. That'll teach him.
July 18, 2012
Antawn Jamison to join the Los Angeles Lakers on 1-year contract
Good pick up by the Los Angeles Lakers.
However I find it funny how a couple of years back, people were making fun of the Celtics for signing players like Jermaine O'neal, Shaq and a few others and declared the Celtics "Too Old" to complete. Fast forward to today and it looks like the shoe is on the other foot for the Lakers with them getting Nash (39) and Jamison (36). Let's see how many other senior citizens they can pick up before the start of the season.
July 17, 2012
Kris Humphries stays with Nets on 2-year deal
With the Dwight Howard trade talks settling down in Brooklyn (and heating up again in Los Angeles), the Nets have come to an agreement with Kris Humphries on a two-year deal as reported by Yahoo! This move looks for fortify the frontcourt with Lopez and maintain the youth movement.
July 12, 2012
Dwight Howard still wants out of the Orlando Magic after call with GM Rob Hennigan
No matter how much I want this whole Dwightmare to be over I keep posting stuff about it because it keeps getting more and more funny.
After the last couple of weeks of intense trade talks that Magic GM Rob Hennigan has made with the Brooklyn Nets, Lakers and any other team that wants this 7-foot big kid, he has the balls to call up Dwight Howard and make a pitch to get him to stay. Really? It's like telling your girlfriend, "Yeah I want to see other people and I'm doing it right now" only to turn around after getting shot down by every girl and calling her saying "Yeah I know what I said before but I still want us to give it a chance". I say that Hennigan should've been talking to him about staying even before he thought about trying to deal him.
Prepare to lose Dwight for nothing Orlando. You had good offers on the table but just couldn't bend on any concessions.
July 11, 2012
Brooklyn Nets end Dwight Howard trade talks
Just when you think it's close to being over THE TRADE TALKS STOP! WHY?! Can someone please trade for him?! I just want this to end.